New York Waterfront
Depicted by Thomas Edison film, turn of the century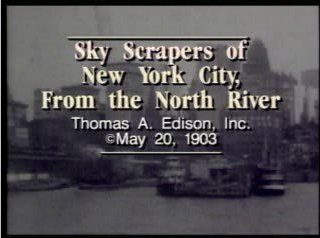 Follow the route heading south....
Freight Warfs for unloading ships and barges
The city looms above the waterfront
A Pennsylvania Railroad warf with PRR barges
Tugboats moving barges to and fro
Lehigh Valley RR Freight Terminal
Car barges along the PRR Terminals (note two lines of boxcars on barge)
End of the layout - beaches along Battery Park?
Or click here to view the whole progression at once moving south along the river (loads all images, may take some time)
My plan - I will model the waterfront at the front of a layout section with a walkway. The freight houses will be on the edge of the layout, so I will need to superdetail. Looking further in, the viewer will be able to see modeled sections of Wall Street, Times Square, a residential section, and famous Grand Central Terminal. The PRR will go through a underwater tunnel to reach Manhattan, and the NYC (Boston & Albany interchanged) and New Haven will enter Grand Central from the North. The other side of the walk way may be the freight terminals of all the other major railroads coming into manhattan that transfer barges across the river, if I can figure out the space. I need more basement!